How is the IELTS test graded
Like in any test you get a score or grade, in IELTS you get a score between 0 and 9 these are the IELTS band scores. For most universities you need a 6.5 or more band score on all 4 skills, reading, listening, speaking and Writing. For immigration purposes it depends on different factors. If you need more information on the band scores you might need to have a look at the General IELTS overview, the Academic IELTS overview or the UKVI IELTS.
About 14 days after finishing the whole test you will get your results in the form of 4 band scores for the 4 skills, listening, reading, writing and speaking, as well as an overall score, as you can see in the example.
IELTS test results example:
The band scores correspond to the CEFR (Common European Framework of Reference) level which is the standard level to define how 'good or bad' you are at using a language.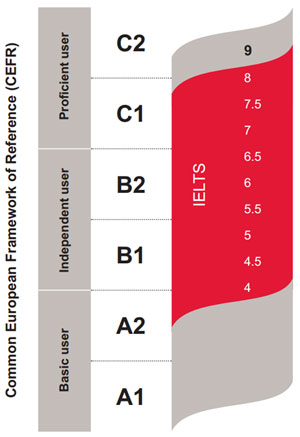 A1 is like Elementary courses in language schools
A2 is like Pre-intermediate courses in language schools
B1 is like most Intermediate courses in language schools
B2 is an Upper-intermediate courses in language schools
C1 is like Advanced courses in English language schools

This means that if you need to score a 6.5 Band on your IELTS you will have to have had some General English classes in a school somewhere and have finished the Upper-intermediate level, or something that corresponds to that. If you are not a strong Upper-intermediate student you will not score a 6.5 and will need to first follow some General English classes before you start preparing for the IELTS exam.
For the IELTS listening and reading it is easy to calculate your score. Both the reading and the listening have 40 points each for 40 questions in both exams. This means for every correct answer you score a point. Remember, for it to be correct the spelling needs to be correct, if not the answer will not receive a point!



So, for example if you do General IELTS reading and score 31 out of 40 you get a band 6. If you do the same for Academic IELTS reading, a 31/40 then you receive a band 7.  The listening is the same for General or Academic so a 31 would be a band 7 in listening.
For speaking and writing it is a bit more complicated as there are no right or wrong answers. You need to write a text of 150 or 250 words and many things can go wrong or right. You can have issues with spelling, punctuation, grammar, sentence construction, not following the task, not using the right format or formality. So, it's impossible to just work on a 40 point system like with the reading and listening. For this reason IELTS created the band descriptors. Next we'll have a look at what they are.
Get your writing and speaking corrected
Join the ever growing group of students who we helped on the road to success and get the professional help you have been looking for.
If you think there are some questions missing, do let us know in the comments.
Can't find what you need?