IELTS Speaking Part 3 Topic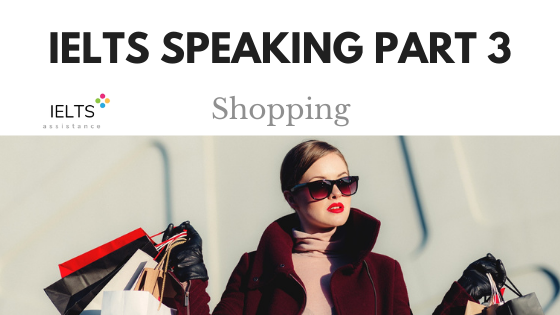 Here are some of the questions asked:
1. Is shopping a popular activity in your country
2. How have shopping habits changed over recent years?
3. To what extent do you think advertising affects the way people shop?
4. Do you think shopping habits are likely to change in the future?
5. Do all people enjoy shopping for clothes?
6. Why women like to do shopping?
7. Why some women buy cheaper clothes and expensive ones at the same time?
8. Do you think it is good for people buy expensive clothes? Why?
9. Why do some people like shopping with friends?
10. Why people like shopping for clothes online?
11. What risks would take when shopping online? Why?
12. What special clothes do people in your country wear on official or formal occasions?
13. What is the different dress style between boys and girls?
14. Do you ever buy anything on the internet?
15. What do you think are the advantages of buying things on the internet?
16. Are there any disadvantages (or dangers) of buying on the internet? (What?)
17. Do you like window shopping? (Why?/Why not?)
18. In your country, how has shopping changed in the past few decades?
19. Do you think people spend too much time (or money) on shopping? (Why?/Why not?)
20. Do people in your country enjoy going to open-air markets that sell things like food or clothes or old objects? Which type of market is more popular? Why?
21. Do you think markets are more suitable places for selling certain types of things? Which ones? Why do you think this is?
22. Do you think young people feel the same about shopping at markets as older people? Why is that?
23. What do you think are the advantages of buying things from shops rather than markets?
24. How does advertising influence what people choose to buy? Is this true for everyone?
25. Do you think that any recent changes in the way people live have affected general shopping habits? Why is this?
Speaking Part 1 Example questions and answers
Speaking Part 3 Example questions and answers
IELTS Speaking Correction
This is the place to get full written feedback on your IELTS Speaking. You can pick any speaking part 1, Part 2 or part 3 question(s), just add the speaking question(s) and send it to us along with your speaking recording as well as the score you would like to achieve. You can also book a full IELTS mock speaking exam of about 15 minutes with us. We will correct it and within the next 24 or 48 hours (depending on the service you chose) mail it back to you.
Basic
Speaking Correction
Personalized tips to improve all 4 bands

Speaking Part 1 or 2 question

Email support for further questions
Full Mock Exam
Speaking correction
Personalized tips to improve all 4 bands

Email support for further questions
In depth
Speaking correction
Personalized tips to improve all 4 bands

Speaking Part 1, Part 2 or Part 3 Question(s)

Feedback with in 24 hours

Email support for further questions
ALL Payments are processed by PayPal. I DO NOT have ACCESS to your CARD DETAILS EVER.
If you have any questions or problems:
Have a look at what our students have to say about IELTSassistance.co.uk
Please accept my sincere appreciation for all the helpful and detailed analysis. It's the first time for me to get such professional assistance in my English learning, most time I just learn by myself. All the information you've mentioned is profound and targeted so I have no doubt that it'll help me a lot as long as I follow it. Some changes in my study schedule has been taken according to these new materials. It's really good to know what the exact problems are in my speaking and writing, so that I can focus on fixing them. What's more, some of your points are so different from what I was taught in classes or textbooks, I think your opinions are more native, accurate and understandable. In the end, please allow me to thank you again for all your patience and kindness.
I got a really good general score at the ielts exam: 8.0Reading: 9.0 Speaking: 8.0 Listening: 8.0 The exception was writing, i got an 6.5. Nevertheless, it allows me to apply for the phd.So thank you very much.
I did well and I got an overall of 7.5, which is more than what I needed. Listening: 7.0 Reading: 8.5 Writing: 7.5 speaking: 7.0 Even though I "succeeded" I think it´s a shame I got 7.0 in listening and speaking. Well, I just wanted to say thanks again because the course was great and it really helped in my case.
I got my IELTS result couple of days ago. Despite my writing score was not good (not a surprise), the overall score was ok, actually I've talked to the universities I´m interested to, and this score is enough.Overall Band: 7.0 Listening: 7.0 Reading 7.5 Writing 5.5 Speaking 7.5Thanks for your help in this process.
I got my IELTS academic grades with a 7 AVG (Listening 6.5 - Reading 8 - Speaking 6.5 - Writing 6). I have been accepted by a Canadian College. I wanted to thank you a lot for your help, it meant a lot!
Write your answers to the questions here: