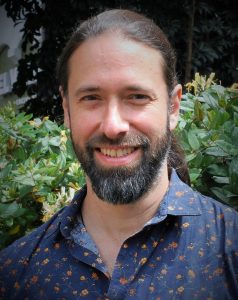 Today we had a little talk with one of our teachers Kristof. Here is what he had to tell us:
Could you tell us something about yourself?
Hello all, my name is Kristof and I'll be your teacher. I never really know what to say for these things, but I'll try :p I have been a teacher for quite some time now, I worked in Belgium, Indonesia, Vietnam, Tunisia, Burma, Colombia and Czech Republic. As you can see I have lived and worked on 4 different continents, which was an amazing experience. I loved the street food and chaos in Asia. I North-Africa, I went through Arab spring and saw how people can take control and change things. In Colombia, I visited some marvelous places and got to taste their amazing fruits and vegs. As for Europe, it's my home and will always have a place in my heart. Everywhere I have been I met some incredible people and got to discover such surprising diversity.
What do you like the most about your job?
The holidays, just kidding. I do love them, but I do love teaching people more. It's fascinating to see what people can achieve if they set their minds to it. All I have to do is provide them with the right tools, some support and encouragement and off they go learning a new language and achieving their dreams. It's a special feeling when you see your students succeed.
What don't you like about your job?
There is not much I do not like about my job, the only hard part is when you can't reach people even though you try to help them. When you are there for them but somehow they do not listen to your advice and then don't succeed. This is the hardest part, failing a student because he or she hasn't achieved what is necessary. This is mostly because they forget that they need to work hard to learn a new language and if you don't practice or put in the work you'll never get there.
Is there any advice you want to give your students?
Don't be scared to make mistakes, we all make them, even the teacher can make a mistake from time to time. Making mistakes is the best way to learn if you are one of those people who learn from their mistakes. Also, don't give up, try and try again, Rome wasn't built in a day. So you need to be a bit patient, learning a language takes time and no need to rush it, it will take as long as it takes. Finally, don't be scared to ask your teacher for advice or questions, he or she is there to help you. Just remember try to follow the advice else as well :p
Why did you join ieltstassistance.co.uk?
I have been teaching IELTS classes for quite some time now and it's hard when you have to help like 15 to 20 people in a class. You can't always help them the way you want. You are also limited with the time you have and what the school wants you to teach them. That's why I joined ieltsassistance, as it gives me the freedom to really help my students. Plus they have some great resources and really know their stuff. I have used many ielts online resources before, but it's hard to find what you really need or it's not good enough for your students. Here they really have the perfect materials as we help with the creation process. You can't imagine how important it is to have real teachers who work with real students creating the materials. Many books talk about the theory, but it doesn't work with real students. Also, we have a great time and an amazing atmosphere at work. It's just great fun to work for and with them.
Any last words?
Just keep on working hard, it's the motivation that gets you there. No matter where you begin, the road can be long but if you keep on going you will get there in the end. And if you need some help or support just ask us and we'll be there for you. Oh and good luck, but as we all know luck favors the prepared.
If you want to know more about Kristof's experience and qualifications, here you can find his CV.
Get your writing and speaking corrected
Join the ever growing group of students who we helped on the road to success and get the professional help you have been looking for.
If you you have any questions for out teachers feel free to contact us or write us a comment.
Can't find what you need?